Ch. Madigan's Baby Grand

(Ch. Moonhill's Classic Plus Signs x Ch. Madigan's Serenity)
b. Oct. 7, 1995
Yancey was a standout from birth, the 8th pup in a litter of 8. We had been so pleased with the Ligier x Moonie pups that we bred Ashton to Moonie for her second litter. Yancey took the show ring by storm as a puppy, finishing her championship in only 7 shows at the age of 10 months, going Winners Bitch every time she was shown, and going Best of Winners all but once. At 11 months she was shown a few times as a special and took Best of Breed each time, defeating other specials and much older dogs, and also won a Best Puppy in Group to cap off her puppy career just a few days before her first birthday. Her brother Rascal also finished his championship.
Yancey whelped her first litter at the age of 5 (January 2001) and we couldn't have been more pleased with the results. Check out 'Our 2001 Litter' as well as daughter Danni's page to see for yourself. Yancey had her 2nd and final litter in April 2002, a repeat of that breeding. Pics can be seen of those pups on the 2002 Litter page.

In August 2008 at almost 13 years of age, Yancey entered the show ring again for the Veteran's Sweepstakes at the BCCC National Specialty and won 2nd in her 11 years and over class under breeder-judge Lucy Campbell-Gracie. She was clearly happy to be back in the spotlight, and moved out like a youngster (complete with a few leaps along the way!)
Personality-wise I couldn't ask for much more in a Beardie. Yancey is truly a 'good soul' - such an easy dog to have around, ever so patient and tolerant of the other dogs (be they bratty youngsters or feeble elders,) and just a wonderful companion and very special girl who hopefully still has many years left.
Sadly an awesome life finally came to an end, as Yancey died April 29, 2013 at the age of 17 1/2. She leaves a huge void and is missed terribly, but we are grateful for the time we had with her. She lived an amazing long life and was healthy, active and bright until the end when her kidneys failed. I wasn't ready to let her go yet, but I had to. Rest easy sweetie.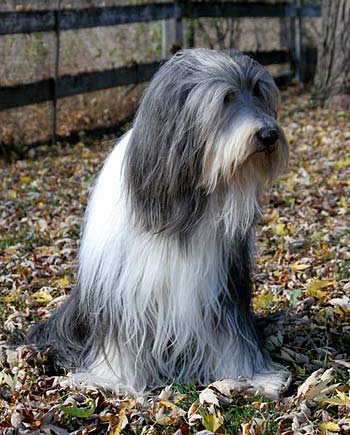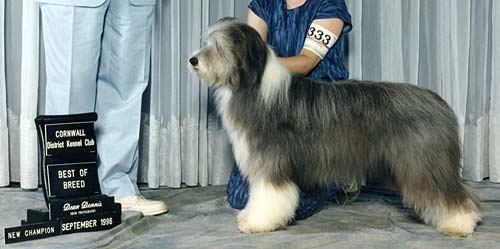 Above: Yancey finishing her championship at 11 months, and
Below: a few weeks later winning Best Puppy In Group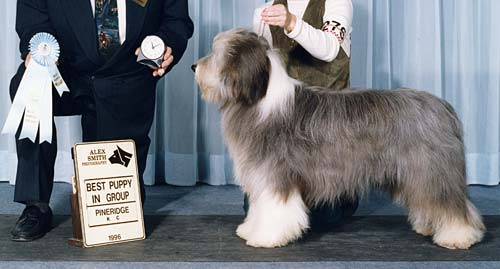 Yancey at almost 13 years, at the 2008 BCCC National Specialty.

Photos by Majka Broulik