Can.Am.Ch. Raycroft Sunbeam

(Eng.Sh.Ch. Raycroft Sunny Jim x Eng.Aust.Ch. Raycroft Society Girl)
b. April 24, 1987
We are greatly indebted to the late Rae Furness of Raycroft Clumbers in England for taking a chance on complete novices to breeding and showing, let alone to Clumbers, and trusting us with such a stunning young girl. We had contacted Rae, having done research on the breed and fallen for the beautiful Raycroft line, and explained what we were looking for and what our intentions were. We were prepared to wait as long as it took to get a puppy, and were rather shocked to get a reply that said she had a litter on the ground and this lovely bitch puppy was available! Of course we couldn't say yes fast enough, and Megan arrived in Canada as an 11 week old puppy, just a few weeks after we had imported our first Clumber, Thomas, from Wales, the result of a recommendation and referral by Rae. We were fortunate in that much can go 'off' with young Clumbers and an 11 week old show prospect may not turn out to be show quality by 4 or 6 months, but Megan grew into as lovely an adult as she'd been as a puppy. A year later Rae repeated the breeding that produced Megan, and from that litter came the great 'Garfield' Sh.Ch. Raycroft Socialite, who would go on to win Best in Show at Crufts dog show in England, over some 20,000 other dogs!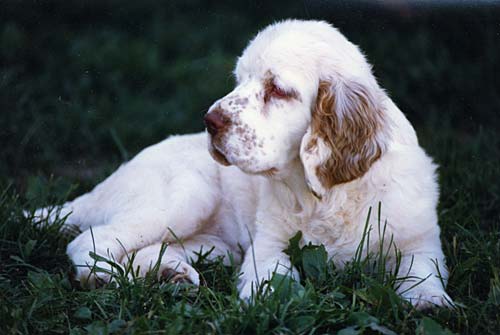 Showing the Clumbers was tough as there was very little competition in our area, but when she found competition Megan rose to the top. At her first Clumber Spaniel Club of America National Specialty Megan won Winners Bitch for a 5 point major, and also was the only bitch selected for an Award of Merit, owner handled all the way. She went back to the US for another specialty and some supported shows and earned another 5 point major by going Winners Bitch and Best of Opposite Sex over specials at a supported show. We ventured across the border a couple more times when we could find competition and she earned the final points towards her US championship easily. Later on we would finally find competition close to home to finish her Canadian championship as well.
Megan whelped her first litter in November 1989, and her second and final litter in October 1990. One of the puppies from her first litter went back to the stud dog owner and went on to produce a US national specialty winner, and a puppy from her second litter went to breeders in Belgium and has done well for them there.
The most wonderful thing about Megan was her personality. She was the sweetest dog to have around, and everyone, including ALL the dogs, loved her. As an older dog with diminished senses she could still find me if we were out in the yard together, and while I was busy cleaning up the yard I'd inevitably suddenly feel a bump on the back of my legs and turn to see an indignant Megan sitting staring at me DEMANDING a cookie! And she always got one!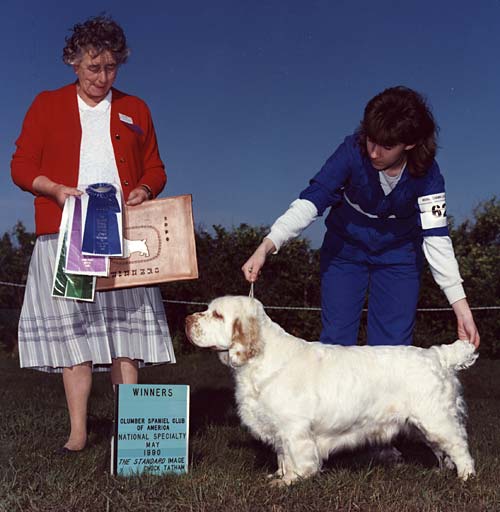 Above: Megan winning WB and AOM at the 1990 CSCA National Specialty under breeder-judge Rae Furness.
Below: A year later at a CSCA Supported Entry show, Megan wins WB and BOS over specials for another 5 point major.