Mickey - Madigan's Tip On A Sure Thing

(Can.Am.Ch.
Mardeck's Just Call Me Sir x Ch. Bedlam's Ringleader at Madigan HC)
b. Feb 11, 1991
Ashton - Ch. Madigan's Serenity

(Can.Am.Ch.
Potterdale Double Image x Ch. Bedlam's Ringleader at Madigan HC)
b. Feb. 3, 1992
Mickey is from Caitlin's first litter. She was shown a bit and won points towards her championship, however she decided she really HATED dog shows, and combined with her being a plainer, minimally-coated dog that didn't immediately stand out in a crowd, we decided not to force the issue. She LOVES people and appointed herself the official greeter at our home. Visitors most definitely had to say hello to Mickey, and she would usually insist they continue saying hello to her for the duration of the visit!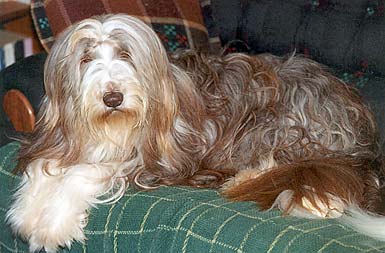 Ashton is a year younger than Mickey, one of a litter of 7 from Caitlin's second litter, born before dawn just a couple of hours after we had returned home after having to rush an also pregnant Ligier to the vet for an emergency C-section. Caitlin and Ligier weren't supposed to be due on the same day, but I guess they had their own plans!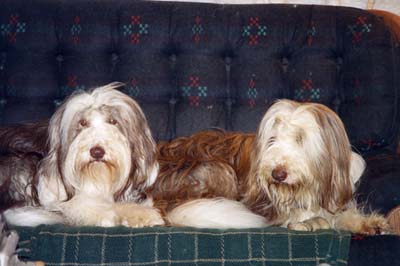 Above: Ashton (right) with Mickey's daughter Olivia

The hair may grow, but the expression stays the same:
Ashton at 12 weeks, and at 2 years

Ashton finished her championship easily, and produced 3 litters for us. She's the mom of champions Yancey, Amanda, and Rascal. She became a grandmother in 2001 when her daughter Yancey had her first litter. Ashton was a strong willed independent type, a trait her kids seem to have inherited, but she was also a sweet, affectionate dog who took everything in stride.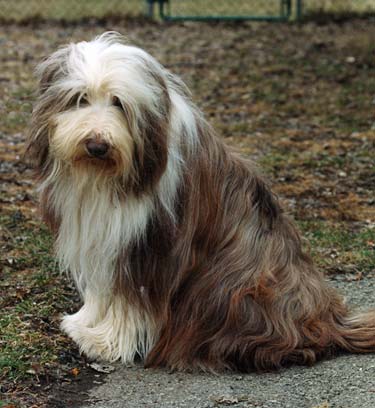 On November 13, 2003, Mickey passed away due to cancer, at age 12 1/2. Sadly just 4 short weeks later we also said goodbye to dear sweet Ashton, on December 11, 2003, at age 11 1/2. Both are very much missed.