Madigan's Sendance and
Madigan's Essentially Elfie
(Can.Am.Ch. Thymewinds Hocus Pocus PT CGC TDI
x Ch. Madigan's Strawberry Wine AGX AGXJ AGDC MSDC MADC)
b. Nov. 19, 2008
Lee is our newest addition, the 'keeper' pup from our Danni x Merlin litter. With just a couple of shows under her belt she is already pointed towards her championship, and she also won her Junior Puppy Bitch class at the 2009 BCCC National Specialty (a win her mother had 8 years earlier!,) earning many lovely compliments from those who saw her. A naturally showy little girl, she is fun loving and sweet, and no doubt will continue to make her mark in the future.
We also kept her sister Elfie (Madigan's Essentially Elfie.) She was a tiny pup who was very slow to grow, so she stayed initially to make sure she was healthy (she is!) But she quickly wormed her way into our heart, and we couldn't part with her.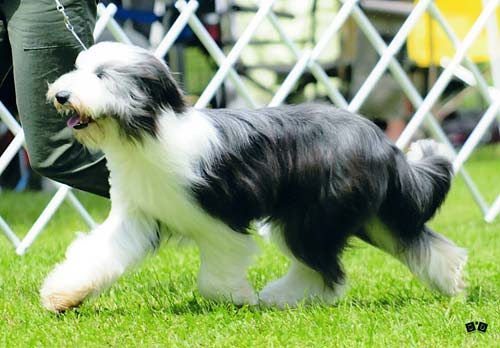 Above and Below: Candid shots from the 2009 BCCC National Specialty, showing her lovely movement and natural showmanship.
Photos by Dean Dennis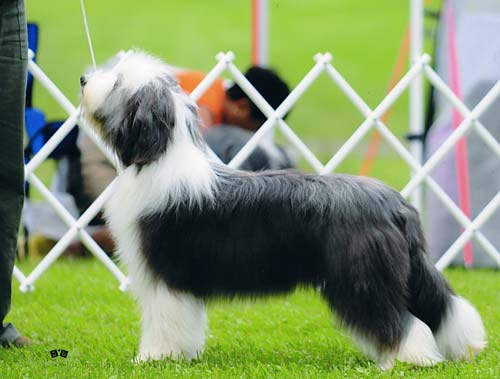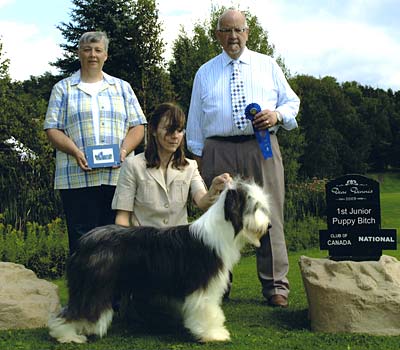 Above: Lee winning 1st in the Junior Puppy Bitch class at the 2009 Bearded Collie Club of Canada National Specialty in August 09.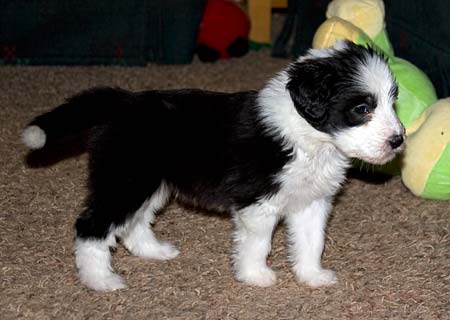 Lee at 5 weeks of age
(bottom two moving shots in the sidebar at left, and middle moving and right free stacked shots in the header, courtesy of Rod Vokey)