Ch. Andchelle Lord Thor

(Eng.Sh.Ch. Raycroft Sunny Jim x Belcrum the Baroness of Andchelle)
b. March 14, 1987
Thomas was our first Clumber, arriving from Wales at the age of 13 weeks. We had contacted Rae Furness of the famous Raycroft Clumbers, interested in acquiring a dog and a bitch, and she had referred us to Michelle Meredith of Andchelle Clumbers, who had just had her first Clumber litter, sired by Rae's well known stud dog, and had a lovely male puppy still for sale. She sent a photo and though we were new to the breed we could immediately see that he was a good one!
Thomas grew into a beautiful adult and became a Canadian champion, group winner, and multi group placer in very limited showing. He was the top owner handled Clumber in 1990, shown just 8 times. He was never shown often as he took his time making friends with new people, so having strange judges putting their hands on him was never his favourite thing!
Thomas was always a sweetie, and a great dog to hug! All the other dogs respected him, and between him and our first Beardie Maddie they kept all the other dogs in line with just their calm and controlled presence!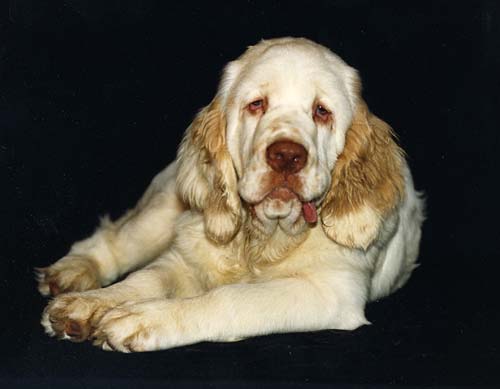 Above: Thomas at 4 months
Below: at 1 year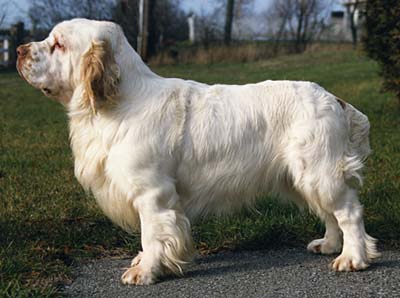 Above: winning Group 1st under Quentin LaHam and
Group 2nd under Richard Guevarra