Diane and Dorine Wynen
Carp, Ontario, Canada
We are located in the very west end of Ottawa, on 26 acres in West Carleton Township, about halfway between the picturesque country towns of Carp and Almonte. 
Madigan got its start with the acquisition of our first Beardie in May 1987, a 9 1/2 week old whirlwind in brown and white fur we named Maddie, from Alice Bixler's Bedlam kennels (then located in Uxbridge, Ontario, now in Florida.) Within two months we had also acquired two Clumber Spaniels: Thomas, imported from Michelle Meredith's Andchelle kennel in Wales, and Megan from the famous Raycroft kennel of the late Rae Furness in England. A year later we welcomed 'Caitlin', another Bedlam Beardie pup, into our home. All 4 were shown to their Canadian championships, and Megan to her American championship as well. Our dogs have always been owner-handled. In July 1989 we had our first Beardie litter, and in November of the same year we had our first Clumber litter.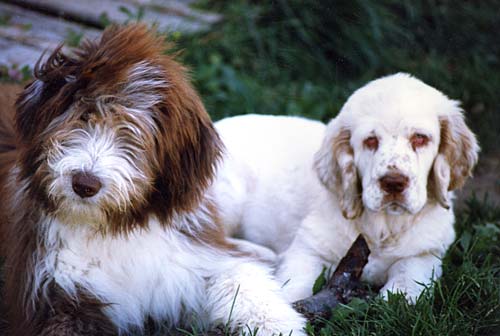 People often ask how we came up with our kennel name. Well, it's thanks to these two, above! Maddie, on the left, was our first Beardie, and went on to produce our first Beardie litter. Megan, on the right, was our first Clumber girl, and went on to produce our first Clumber litter. Our kennel name, Madigan, is a combination of the two names - 'Madi' from Maddie (we dropped a d), and 'gan' from Megan!
Since then we've continued to show and breed Beardies, averaging one litter per year or two (though nowadays it's more like one litter every 2-3 years.) We always breed with improvement in mind, hoping that there will be that special pup in the litter for us to keep and continue on with, and breedings are carefully planned in advance. Temperament, type, sound structure and movement, and health are all given the utmost consideration in our decision to breed a litter. We believe that the show ring should be a venue for a breeder to display their 'cream of the crop', and as such we usually only designate one, or possibly two pups from each litter as show puppies, even though there may be several who would be quite capable of finishing their championships. In spite of our fairly limited breeding program and our commitment to see only the best shown, Madigan kennels received the Pedigree Top Bearded Collie Breeder Award in 1997.
We bred or co-bred a couple more Clumber litters in the early 90's, but unfortunately ran into health problems that left us with nothing to continue with. At the time we were not able financially or emotionally to start over again so our Clumbers were 'retired to pet status' and we continued to enjoy them simply as the wonderful companions they are. Sadly our last Clumber passed away several years ago.
Even though they are 'show dogs', our dogs are our companions first and foremost, and all live in the house with us as our pets. Pups are raised in our home with lots of care and handling. All of our dogs are CKC registered and x-rayed clear of hip dysplasia. Pups are sold to approved homes where they will be loved and cared for as a member of the family, and we do our best to match each pup with the right owner. All pups are registered with the CKC and certificates are provided to the new owners as soon as we receive them, generally within a few months. We encourage new owners to call us with any questions or problems they may encounter, as at times baby Beardies can be a challenge to even the most experienced of dog owners, and having raised many of them ourselves we can often help smooth over any bumpy spots with just a little advice.
We are members of: