Ch. Madigan's Born For Adventure

(Can.Am.Ch. Potterdale Double Image HC x Ch. Bedlam's Perpetual Motion)
b. July 6, 1989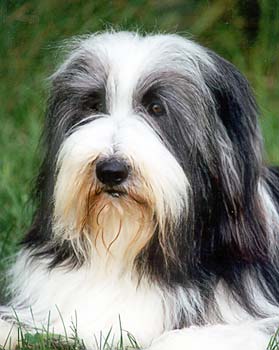 No matter how many years a breeder has had dogs, or how many dogs they've owned, we all have that one special dog. Sometimes it's our biggest winner or best producer, but most of the time it's just a dog that comes along and steals our heart. Ligier was that dog for me. She represented a lot of firsts for us - she was from our first litter, and became our first homebred champion, but honestly none of that really mattered. It's impossible to explain what made Ligier so special. She just was. To look into her eyes was to see into her soul, a soul that wanted nothing more than to love and be loved. Physically she was a lovely Beardie but more than that she was beautiful on the inside.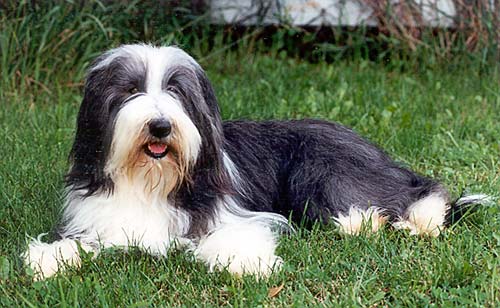 We went through a lot together, not the least of which was her diagnosis with Addison's at age 4. She lived comfortably with the disease for 7 years with daily medication, and no one who met her over those years would have ever suspected she was sick. Ligier whelped two litters before her illness became apparent, though in hindsight the problems she encountered in whelping, and the small number of live pups resulting (3 total, from the two litters), were a sign all was not right. All 3 kids - sons Calvin and Hobbes from her first litter, and daughter Senna from her singleton second litter, stayed here with us and all became champions.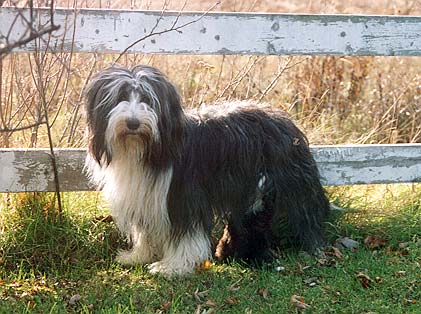 Above: Look very close and you'll see Ligier's singleton puppy - 6 week old Senna - under her mom's belly nursing!
Below: Ligier with that puppy all grown up!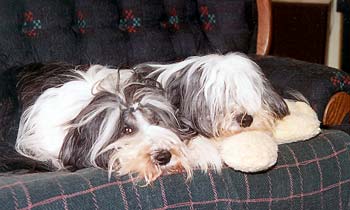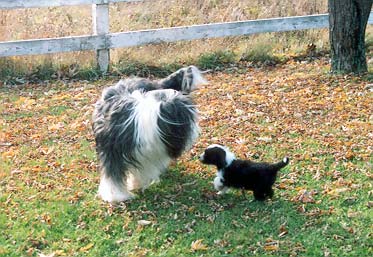 Above: one of my favourite pictures of Ligier with 6 week old Senna
As she got older Ligier showed signs of aging - her coat thinned, her belly got heavier, and her eyes became a bit cloudy, but I still saw her as the most beautiful dog in the world. And she was.