Shane - Madigan's Sunshine Superman

(Eng.Am.Can.Ch. Raycroft Sheriff x Can.Am.Ch. Raycroft Sunbeam)
b. Nov. 25, 1989
Josie - Only For You of Blue Silver Shadow


(Raycroft Snooker x Kiss My of Blue Silver Shadow
b. Sept. 7, 1990
Paige - Madigan's Moonbeam


(Ch. Andchelle Lord Thor x Can.Am.Ch. Raycroft Sunbeam)
Oct. 5, 1990

Shane was from our first Clumber litter, one of 6 puppies born in November 1989. As a young pup we felt he had great potential as a show prospect, however fate had other plans. At the age of just 5 1/2 months Shane developed immune mediated hemolytic anemia, a life threatening illness where his immune system was destroying his red blood cells. At one point the level of red blood cells in his system was measured so low it was considered incompatible with life! He was given a blood transfusion and put on very large doses of medication, and although it was touch and go for quite some time, ultimately he pulled through and enjoyed a healthy life, until he unfortunately developed sudden neck problems the age of only 7 1/2 which were too severe and extensive to be a candidate for treatment.

Josie arrived at the age of 4 months, imported from Marc and Carolien Deschuyter of Blue Silver Shadow kennels in Belgium. We had hoped she would be a great addition to our breeding program, however fate again had other plans. She was shown and earned 5 points towards her championship before she was bred for the first (and only) time. Complications ensued and unfortunately the litter was lost. Not long afterwards she was diagnosed with Intervertebral Disk Disease, and a year later, in May 1994, a disk ruptured and she was instantly paralyzed. She underwent successful surgery and as a result regained most of the function to her legs, and she spent the next number of years wobbling happily around the house, forever arguing with Senna over who owned ALL the stuffed toys!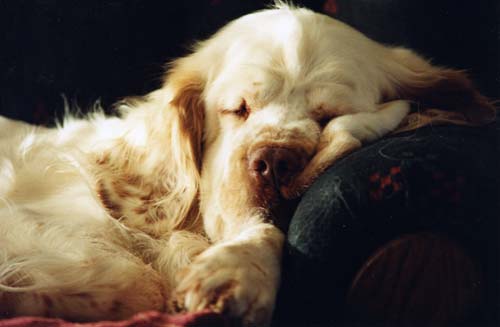 And then there's Paige. She was from our second Clumber litter, and is just a month younger than Josie. Raising one Clumber puppy is difficult at the best of times - they're mischievous, naughty, destructive, and into everything! So you can imagine that raising two puppies together  - Josie and Paige - was HORRIBLE! Oh they were sweet and adorable but boy were they work! We kept Paige as we thought she was a lovely pup, and indeed she grew up very nice, though not very big! She was my little girl, the perpetual puppy, even at 11 years old. Our plans to breed her were nixed when she began showing clinical signs of hip dysplasia, hopping and limping on a fairly regular basis. Fortunately it didn't slow her down any and she managed very well over the years. In the spring of 2001 the neck problems she had begun having in recent years flared up big time and she could barely move without excruciating pain. Given how stoic Clumbers are, when they show pain you know it HURTS! She was a good candidate for surgery so despite her advanced age the decision was made to go ahead, and miraculously just a day and a half after having major neck surgery she walked out of the clinic wagging her tail happy as can be, and she never looked back! She turned 11 in early October 2001 and she remained the happy little puppy she always was until we lost her to liver cancer in June 2002.

A senior Paige, with one of her favourite toys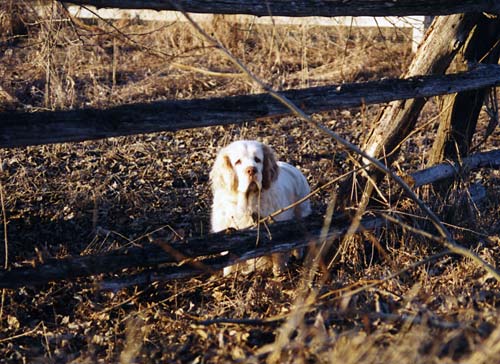 Two older girls: Josie at 7 (left) and Paige at 11