Carlin - Leonberger

b. April 21, 1985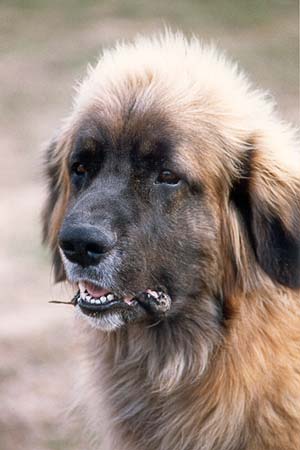 We'd long had a fondness for the giant breeds, and after we had to euthanize our first Alaskan Malamute at a fairly young age, we had decided to get a Newfoundland pup. But I had also fallen for a picture of a stunning Leonberger that I saw in a magazine, and began to look into this breed as well. At the time the breed was not recognized by either the CKC or the AKC, so information wasn't that easy to find, but what we did read sounded wonderful. We located a breeder in Michigan and talked at length with her, and then decided that YES we would also get a Leo puppy. In June 1985 we drove to Michigan to pick up the most adorable little puppy. One thing about giant breeds however, is they go through the most ridiculous growth stages! He went from a round little bundle of fluff to the gawkiest gangliest thing imaginable in just a few months! I think for weeks only his muzzle and his legs grew (and grew and grew!) Eventually he 'grew into himself' and became a handsome adult. He was a sweetheart of a dog, silly and goofy and, well, not the smartest dog in the world, but with a heart of gold. He and our Newfoundland were just 5 weeks apart in age, but where our Newf seemed to age slowly but surely and spent his senior years as clearly an 'old dog', Carlin remained healthy and active right up until the day he died suddenly at the age of 10.
Yes it really is the same dog! At left baby Carlin at just 7 1/2 weeks old, and at right just a couple of months later!
And his legs continued to grow, to ridculous proportions! But eventually, the rest of him caught up.