Ch. Bedlam's Ringleader at Madigan HC

(Can.Am.Ch. Algobrae Sterling Silver x Ch. Bedlam's Instant Insanity)
b. April 26, 1988
Caitlin came to us from Alice Bixler's Bedlam kennels in the summer of 1988 at the age of 12 weeks. She had initially been sold to another family who had returned her after only a week because she was too wild and ate all the flowers in their flower garden! The first week we had her she definitely pulled out all the stops, as if she was testing us to see if we were going to return her too! Once she realized she was here for good she became the sweetest dog, so easy to deal with and never the least bit of trouble.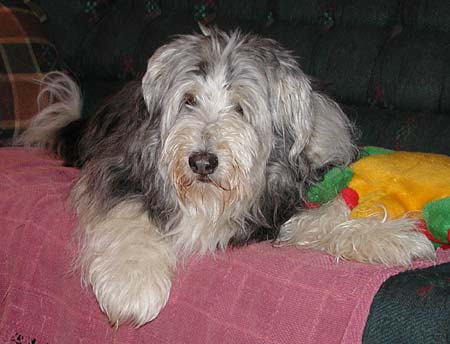 As a young dog she would get horribly carsick, so showing her was a chore. She'd arrive at the show a soaking wet mess, and not in the best of moods either! Between that and a very slow growing coat, it took a while for her to finish her championship, though she was always in the ribbons (always the bridesmaid, never the bride!) She finally finished at the age of 4, and a few years later as a veteran (who had finally outgrown the carsickness!) she was truly looking her best and came out of retirement to win reserve best in the first veteran's sweepstakes at the BCCC national specialty under breeder-judge Carol Gold, a win she would repeat two years later under breeder-judge Barb Blake.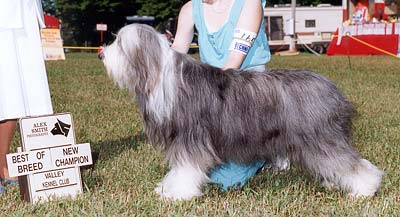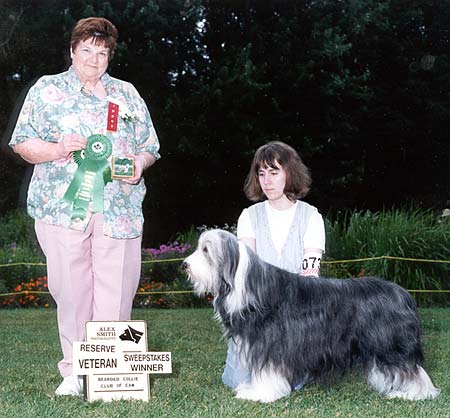 Caitlin produced 3 litters for us and was still going strong as a 15 year old great grandmother!  
Nov 2003, Caitlin at 15 1/2 years old,
modeling her new coat!

Too unsteady to tolerate much grooming, and tending to fall down a lot so her hair was always getting tangled and dirty, I finally made the decision to clip her coat down. Without that coat though the reality of just how skinny she was and how little muscle tone she had became even more noticeable, and with the chilly weather here this old girl got cold easily! So she needed a winter coat! This wonderful coat is made by
Chilly Dogs and kept her nice and warm when she had to go outside. And she looked quite stylish too!
With her body weak and failing, we made the decision to say goodbye to Caitlin on March 11, 2004, just weeks shy of her 16th birthday.