In recent years, producing photo collages in various forms has become part of my business. These started out as a result of photo sessions I did for clients, but also include arrangements using photos the client supplies. A large print featuring a creative layout of multiple photos can be much more satisfying than having many small snapshots languishing in photo albums, or stored on a hard drive where few ever see them. Alternately, collage layouts can be used for ads, web graphics, or e-greeting cards to email to friends. The process of producing these collages involves a lot of communication between myself and the client, as well as back and forth exchanges showing suggestions or options, in order to produce the result the client desires. My tastes may not be yours, and the most important thing is that the customer is satisfied with the end product.
Prints can be any size up to 13" x 19", and are made using archival pigmented inks on Epson Ultra Premium Luster paper, for a longevity rating of 71+ years when displayed out of direct sunlight. Some prefer to mat and frame their collage prints, while others prefer dry-mounting and laminating.
Cost varies greatly depending on size, number of photos used, and extra embellishments or graphic work.
In addition to the examples shown on this page, you can see some I've done for myself on other pages on this website, such as the collage on the
Meet our Dogs
page displaying many of our canines over the years, and on the
About Wyndian
page, showing an variety of artwork I've done.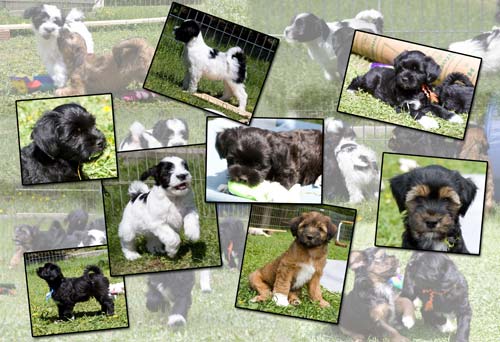 Above and Below: Two very different collages showcasing a friend's Tibetan Terrier litter. Both measure 13" x 19" and feature
photos taken by myself.