These cedar jewellery boxes were handcrafted by a local woodworker. The lids are hinged, and small wooden feet are glued to the bottom. They come in 3 sizes:
Small measures 5" x 8", and is $90
Medium measures 5" x 10", with a centre divider inside, and is $95
Large measures 5" x 15", with an off-centre divider inside, and is $110
Sadly the woodworker who made these boxes passed away some time ago, so they will only continue to be available until my current stock runs out. For now I still have a good number of the small boxes in stock, and a few each of the medium and large sizes. A couple of the large boxes in stock have the more elaborate footed base seen in the photo of the large Bearded Collie box. For the others the more simple feet used for the small and medium boxes would be attached.
Other wooden boxes are available, and examples of some of these can be seen further down the page. They are made from thinner plywood, have hinged lids, and come in a wide range of sizes.
Unless otherwise stated, the boxes on this page have all been sold and are shown as examples of what you may order.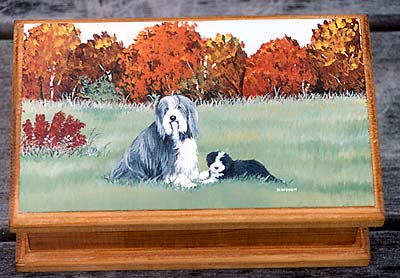 Above: The small jewellery box, featuring Bearded Collies