As a surface to paint on, glass is very different and requires a different technique than painting on other surfaces, but the results can be stunning! Special paints are used which are baked in the oven for maximum adhesion and durability. Painted items can be safely hand washed or gently cleaned with water, as long as nothing abrasive is used. A wide variety of glass items are available, from vases to candy dishes to framed pieces of stained glass. Some items are regularly in stock, while the availability of others depends on the inventory at stores where I shop for the items. Inquiries about glass items shown on this page, or other items I might be able to come up with, are welcome. As with all of my work, I can paint any breed, as well as commissions using your photographs.
My painted glass work has proven very popular, and was extremely well received as National Specialty trophies for the 2007 Tibetan Terrier Club of Canada in 2007 and the Bearded Collie Club of Canada in 2009. Unless otherwise stated, the items on this page have all been sold, and are shown as examples of what can be ordered.
Additional glass items can be seen on the
Jewellery
page, which shows some painted fused glass pendants.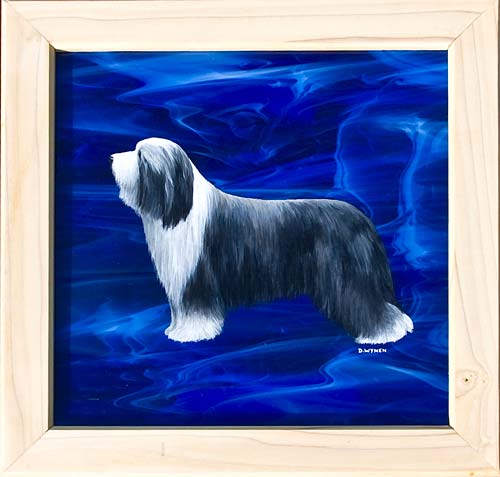 2009 Bearded Collie Club of Canada Best of Breed Trophy
Painting on blue stained glass, in a handmade wood frame.
Size approximately 12" x 12"