Although many of the paintings on functional wood items, slate, or other surfaces are portrait commissions as well, this page is for more typical commissioned paintings done on wood panel, masonite (hardboard,) paper, or canvas.
For commissions my preferred medium is acrylic, however I also work in oil and watercolour. Pricing depends on the style and medium.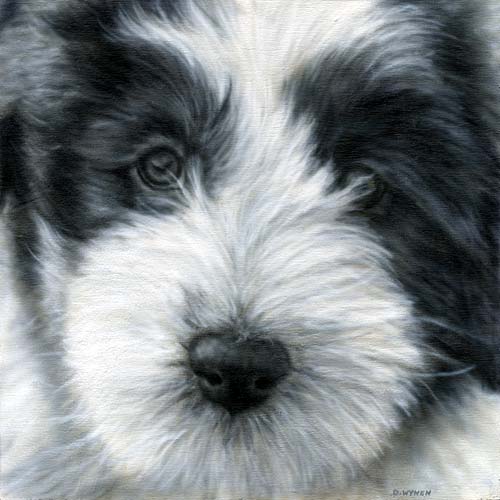 Baby Frankie, 10" x 10", acrylic on birch panel
A unique style focuses on close-ups and allows the subject to be much larger, truly 'filling the frame' for strong impact, with little or no background. Painted in acrylics on birch panel and varnished for protection, they are available in a wide variety of sizes. Panels come in either gallery depth (1.5") or regular depth (1") and the edges are painted so the piece needs no framing. Hanging hardware is included and the painting can be hung on the wall as soon as it is received. Most sizes are available in both depths however some sizes may be available only in regular depth or gallery depth so please let me know if you have a preference.
For more information on fine art commissions, visit my new website wyndianart.com, where you can see many newer works as well as pricing information.